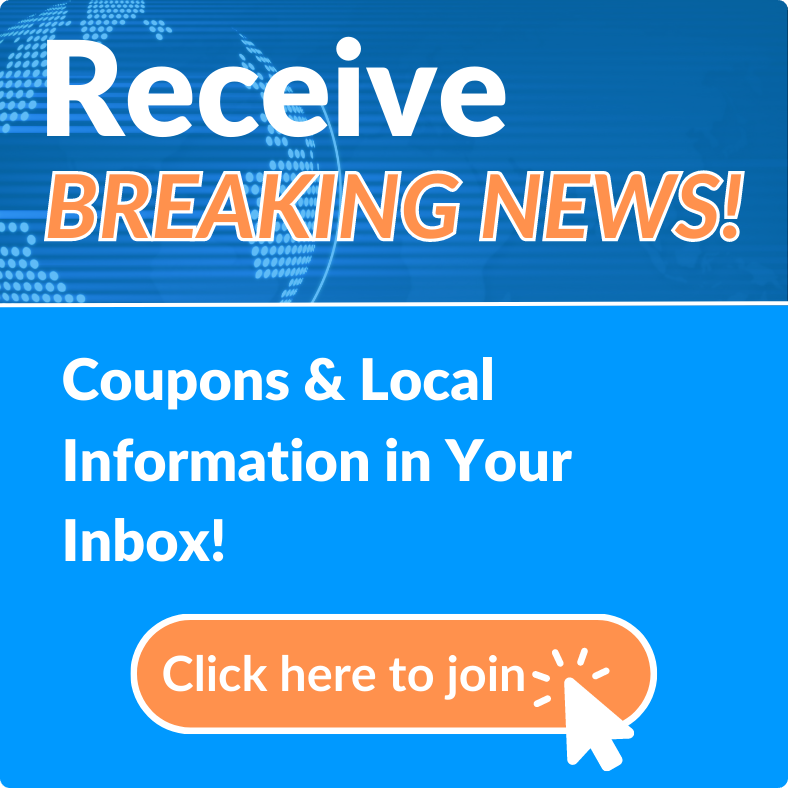 Neurology Associates of Ormond Beach Clinical Research Center
Neurology Associates Clinical Research has been serving Volusia County over the past 15 years by conducting clinical trial research. However, their connection to the community goes back further than that where their goals are to treat their patients with the compassionate and excellent care each deserves. It is a testament to their professionalism that Neurology Associates Clinical Research continually receives new pharmaceutical clinical studies. Our research program includes worldwide sponsored pharmaceutical collaborators as well as an enormous amount of recruitment communications (phone contact, email, and in-person per month) and clinical research participant visits.
We take great pride in caring for our patients.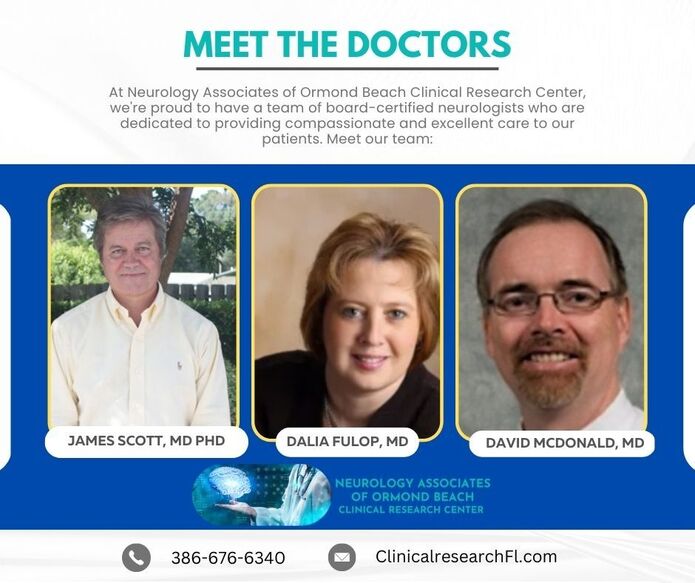 James Scott, MD PhD
Medical Director, Comprehensive Stroke Center, Halifax Medical Center Daytona Beach, and Port Orange.

He has over 37 years of extensive experience in Multiple Sclerosis, Stroke, Parkinson's, Alzheimer's, Epilepsy, Migraine.

He graduated from UNIVERSITY OF FLORIDA in 1986 with a combined degree (MD and PhD) in Clinical Neuropharmacology

Clinical Research Fellow at National Institutes of Health (NIH)
Dalia Fulop, MD
President, Clinical Research Department at Neurology Associates, Ormond Beach

Affiliated with Halifax Health Medical Center of Daytona Beach and Port Orange

She received her medical degree from Iuliu Hatieganu University of Medicine and Pharmacy and has been in practice for 24 years. She also speaks multiple languages, including Hungarian and Romanian.

She specializes in neuroimaging.
David McDonald, MD
Diplomate of Neurology certified by the National Board of Physicians and Surgeons
Affiliated with multiple hospitals in the area, including Halifax Health Medical Center of Daytona Beach.

He received his medical degree from Tufts University School of Medicine and has been in practice for more than 20 years.

Extensive experience in Epilepsy, Alzheimer's Diseases, Dementia, and Headache.
3-Clinical Research Nurse Practitioners:
Katrina Akin, NP

Alyssa Alvarez, NP

Dianne David, ARNP
3-Clinical Research Coordinators:
Debbie Hrusa, RN, CCRP (SoCRA Certified) Clinical Research Study Nurse

Torrey McCroskey, LPN

Tim Sneed, Clinical Research Coordinator
Research and Development Manager:
Valentina (Tina) Lepsky-Perla, BBA CCRP (SoCRA Certified)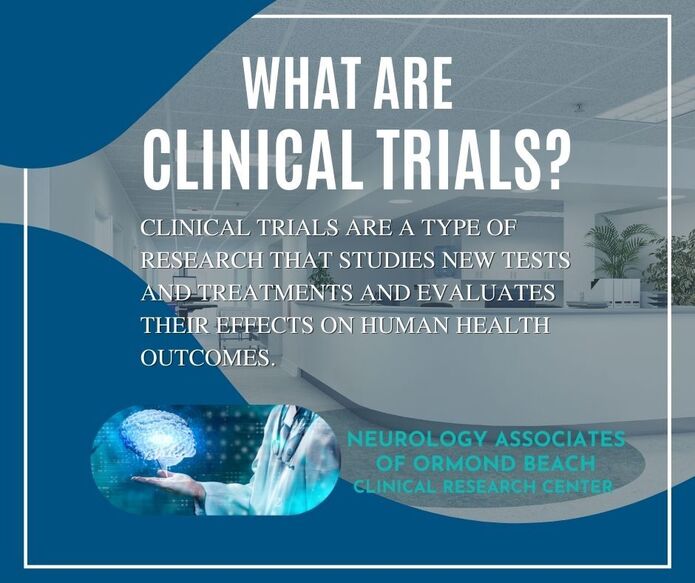 Neurological Clinical Research Benefits
These pharmaceutical research studies provide new cutting-edge therapy for participants who might be underinsured, uninsured or have not been successful with traditional treatments with the goal of understanding neurological conditions and finding potential new treatments.
Volunteering for a clinical research trial is a personal choice. It avails the participant of treatment, and medical care, which are an integral part of the research process.
Depending on the type of study, participants receive study-related care at no cost, study-related lab testing, MRI Imaging and/or PET scan, Diagnostic Testing, study-related payment for time and travel, and study-related medication.
There is also an altruistic reason to join a study at Neurology Associates of Ormond Beach Clinical Research Center!
Some of our participants join purely because they want to be a part of finding the cure through personal experience, to improve medical care for future generations, their personal interest in science and help our team gather data to advance the field of medicine. Without volunteers, clinical studies simply would not be possible!
Participants do not need health insurance to be a part of a trial as their medical care associated with the study is inclusive. In other words, neither the participant nor the insurer will be receiving a bill. They are covered 100%!
After enrolling in a study, they may leave at any time for any reason. Eligibility requirements vary for each study and determine the criteria for participation. When carefully conducted, they are the safest and fastest way to find new treatments and ways to improve health.
Join us and become a part of the Neurology Associates of Ormond Beach Clinical Research Center's family as we sustain our mission to enhance lives and outcomes as we aim for a better inspiration in our Center of Research Excellence!
We Are Now Enrolling for multiple Research Studies!
All studies take place at Neurology Associates of Ormond Beach Clinical Research Center, 8 Mirror Lake Drive, Suite C in Ormond Beach, FL. If you are interested in learning more, please call and talk to our professional staff regarding current clinical trials at 386-676-6340 and learn how to potentially improve health outcomes and an opportunity for a better quality of life!
Contact us today, if you feel that you might be eligible for any of our upcoming studies.