Port Orange Homes For Sale
Greetings and
thank you for visiting!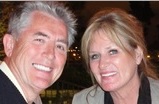 Tony and Donna Goudie fell in love with this community and all it had to offer in 1994 when they moved here from New York. Many of their clients are repeat customers who realized that they were dealing with a team that has a unique and comprehensive understanding of the greater community. Tony spent 10 years in public service and gained a thorough understanding of local land use regulations. Donna was a nurse for 25 years and is comfortable helping people achieve their goals. Whether you are buying a home or listing your house for sale, you will experience the knowledge and skills of two seasoned agents.
"As top producers at Gaff's Realty Company, we attribute our success to our ability to provide customers with a professional, positive experience. Please feel free to contact Tony or Donna to discuss how we can best assist you with your real estate needs."
Sincerely,
Team Goudie
Tony & Donna