Riverwalk Park Date Night
Date:
2/15/2019 at 6:00 PM to 10:00 PM
Event Description
Port Orange Date Night Movie with FREE child care
Port Orange Parks & Recreation will be hosting a FREE event at the Riverwalk Park on February 15th from 6pm-10pm. Parents will be able to drop off their children ages 6-14 at the Port Orange Parks & Recreation Gym. Registration is required and will end on February 8th so make sure to register today. There are only 75 available spots and it is first-come-first-serve.
On the day of the event you will be able to drop the kids off at the gym any time after 5:30pm and the staff will feed and entertain them with games, toys and activities to keep them busy. The kids must be picked up no later than 10pm.
Once you drop the kids off you and your special someone can head over to the Riverwalk Park for the first ever Date Night Event hosted by Port Orange Parks & Recreation. The event will begin at 6pm with a romantic comedy in a romantic setting where you can enjoy your night with a s'mores bar, food trucks and adult beverages. The movie will be decided by the people.
So, make sure you register the kids, grab a blanket and enjoy some alone time at the first Movie Date Night on February 15th. For more information please call 386-506-5934. To register the kids please go to
https://www.port-orange.org/events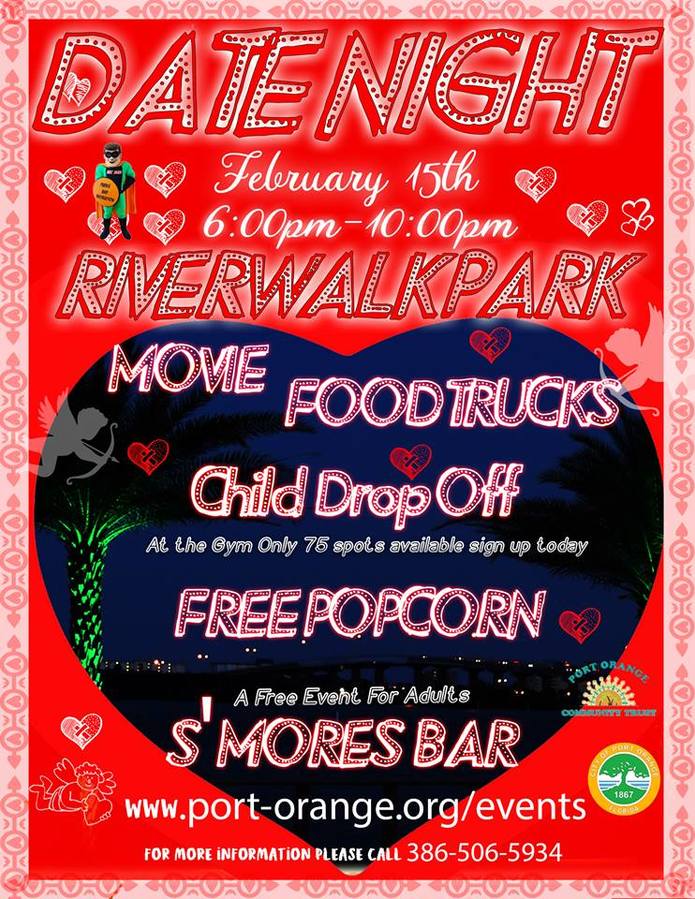 For more information please call 386-506-5934. To register the kids please go to https://www.port-orange.org/events