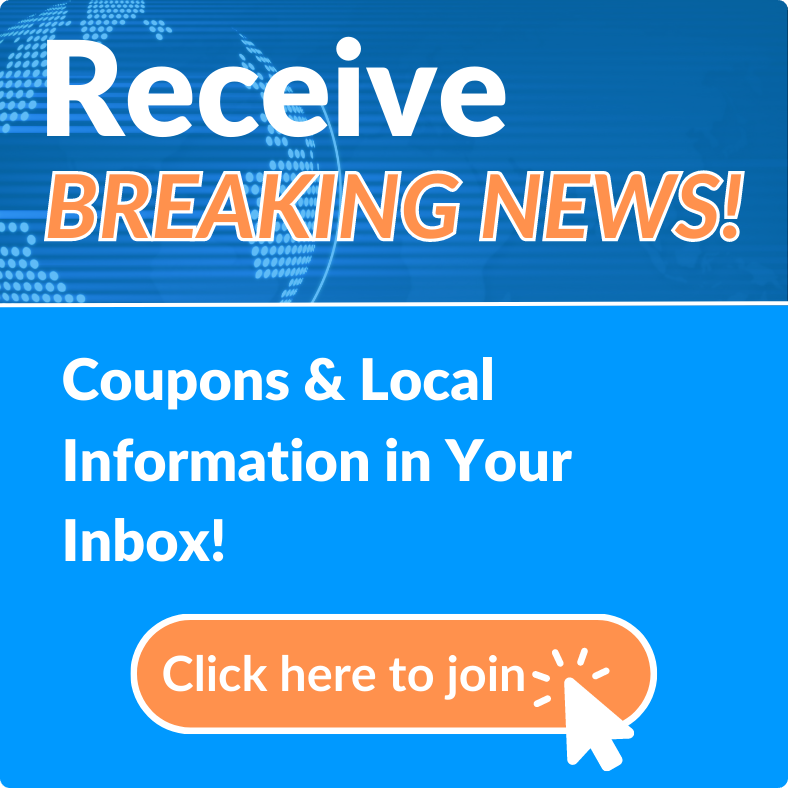 Epic Clash: Unbeaten Hawks vs. Undefeated Rams!
Fri, Sep 22, 2023 at 1:10PM
---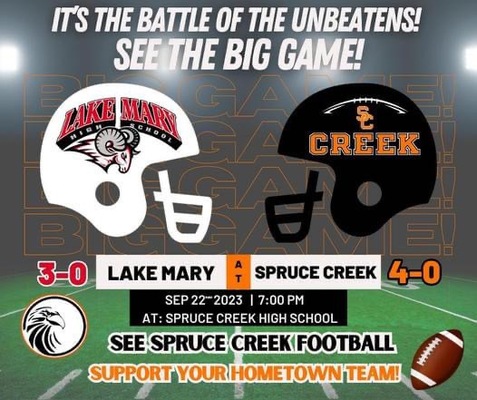 Written by Kristen Schmutz
Belden Communications News

Get ready for an electrifying clash of the Titans!
The excitement is palpable as the undefeated Spruce Creek Hawks Football Team - Your Hometown Team - gears up to face the also undefeated Lake Mary Rams tonight, September 22, 2023, at 7 p.m. on the Hawks' home turf at Spruce Creek High School, off Taylor Road in Port Orange. This showdown promises to be an epic battle you cannot miss!
With an undefeated streak this season, the Hawks and the Rams have proven their mettle, and the Hawks are determined to continue their winning ways, making this more than just a game— but a showcase of determination, teamwork, and the indomitable spirit of the Spruce Creek Hawks.
Meet the Hawks' Star Players
Luke Smith, Quarterback
Leading the charge is the remarkable quarterback, Luke Smith, whose precision and skill are nothing short of outstanding, with an impressive 40 completions out of 71 attempts, totaling a whopping 765 yards and ten touchdowns. Smith has proved to be a pivotal force for the Hawks.
Tony Kinsler, Wide Receiver
Tony Kinsler, the versatile wide receiver, has showcased his prowess on the field, making a significant impact with his multifaceted game. From 442 receiving yards to 92 rushing yards and a remarkable seven touchdowns, Kinsler is truly a standout player.
Kam Chamble, Wide Receiver
Kam Chamble, another electrifying wide receiver, has exhibited his blazing speed and agility, amassing an impressive 164 receiving yards and contributing three crucial touchdowns for the team. His exceptional talents have garnered him an offer from Yale University.
Derry Norris, Defense
On the defense is Derry Norris, a force to be reckoned with. His extraordinary abilities reflect his impressive stats of 32 tackles and 6.5 sacks. Norris boasts an impressive 1450 SAT score and has garnered offers from prestigious institutions like Pitt, Georgia Tech, Purdue, Bethune, Western Michigan, and USF.
Truth Moody, Offense
Truth Moody, a stalwart on the offensive line, has shown prowess in protecting the quarterback and enabling offensive plays. His dedication and skill have earned him offers from Bethune and Alabama A&M, underlining his potential as a future star.
Witness the exhilarating clash of titans as the Spruce Creek Hawks take on the Lake Mary Rams tonight, and come together and rally behind our Spruce Creek Hawks, Your Hometown Team!
---
Bookmark & Share
---
User Comments
Be the first to comment on this post below!