News Archives
Free Smoke Detectors to be Installed in 2 South Daytona Mobile Home Parks
Wed, Apr 25, 2018 at 4:35PM
---
South Daytona, FL- On Saturday, April 28, 2018, the South Daytona Fire Department will partner with the American Red Cross of Central Florida to install free smoke detectors in two of South Daytona's mobile home parks.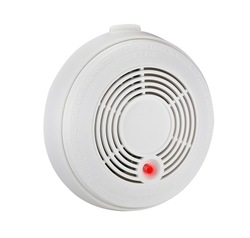 The residents of these mobile home parks will be receiving free sealed 10-year smoke detectors courtesy of the Red Cross and firefighters will be assisting the Red Cross to ensure all the residents have the protection of a smoke detector.
According to a 2015 report from the National Fire Prevention Association, three of every five home fire deaths resulted from fires in homes with no smoke alarms (38%) or no working smoke alarms (21%).
South Daytona's Fire Department's Fire Prevention Coordinator, Jason Taylor, stated "The early warning provided by a smoke detector can mean the difference between life and death in enabling a quick exit...The Red Cross and the South Daytona Fire Department are committed to enhancing resident safety in our city through a proactive approach."
With 75 smoke detectors anticipated to be installed, plans are in the works for more joint smoke detector installations. South Daytona residents are encouraged to contact the fire department at 386-322-3033 if they need assistance in checking their smoke detectors or don't have one.
Here are the locations of the 2 mobile home parks where smoke detectors will be installed:
Suwannee Mobile Home Park, 2850 S. Ridgewood Avenue
Water's Edge Mobile Home Park, 2800 S. Ridgewood Avenue
---
Bookmark & Share
---
User Comments
Be the first to comment on this post below!