News Archives
30 Acres Near Pavilion at Port Orange will be used for Multi-Family Apartments
Wed, Apr 25, 2018 at 11:40AM
---
Port Orange, FL- Requests to rezone property near the Pavilion at Port Orange were approved at last week's council meeting. 30 acres of land has been rezoned for multi-family apartment use.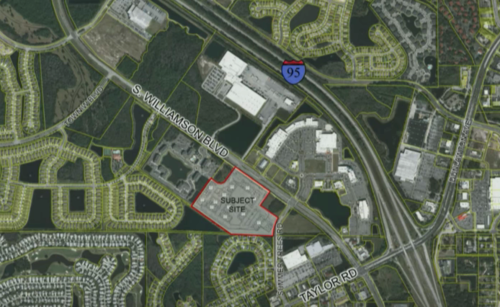 The land was originally zoned for commercial use and many believe that rezoning the property for a residential purpose is best. The developer has done a traffic analysis and determined that residential use of the land would have less effect on the growing traffic concern than if the land was developed for commercial use.
The proposed project is called The Springs at Port Orange which is going to be a 12 building apartment complex consisting of 292 apartments. At the council meeting, there was also a request to reduce the minimum living area requirement from 600 sq ft to 500 sq ft. This will enable the developer to create studio apartments which are in high demand and have a high occupancy rate.
Currently, the plan for The Springs is to build two-story, garden style apartment buildings with a ground level entry for all apartments in the area between Summer Trees Road and the Whitepalm apartments. The developer, Continental Properties, has developed 19,000 apartments across 18 states and says the plans are still just a concept and not complete.
The amount of traffic that is being brought to this area has been a growing concern amongst residents of Port Orange. Many members of the community attended the meeting to find out more and express their concerns about the traffic. Currently, The Springs project is proposing to have the main entrance off Summer Trees Road and a right in, right out entrance and exit off onto Williamson Boulevard. This is causing a lot of residents who live off of Williamson Boulevard to worry.
Representatives from Continental Properties and members of the City Council made it clear that they only approved the rezoning of the land and the reduction of the minimum living area at last Tuesday's meeting. City Council encouraged Continental Properties to work with the community and hear out their concerns.
---
Bookmark & Share
---
User Comments
Apartments across from the Pavillion
Now I know the city is greedy and the council members have lost their minds. We could have up to almost 600 more vehicles on the road. I don't know how they are going to handle that. Apparently they live in another area. We already have a 2:45 minute light at the Summer Trees entrance. They needed to build the roads first.
Author: / Wed, Apr 25, 2018 at 6:57PM
Town Homes by Pavilion
I think the new complex would be great!! Traffic is handled very well by the lights. I do think a STOP sign for the traffic on Williamson by the White Palm Apts would be helpful as well as helping the traffic flow for US Foods entrance and exit.
Author: / Fri, Aug 24, 2018 at 5:37PM