News Archives
Hydrate A Hero Event at CountrySide Lakes
Thu, May 31, 2018 at 2:50PM
---
Port Orange, FL - On June 2, 2018, the Hydrate A Hero event will be taking place from 11pm to 2pm at the CountrySide Lakes Senior Community Backyard.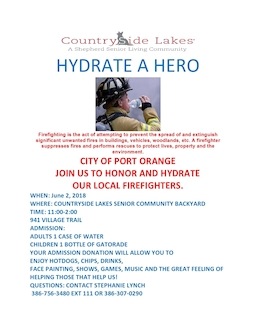 This event is to honor our firefighters and keep them hydrated through donations of water bottles and Gatorade. Admission to the event is one case of water for adults and one bottle of Gatorade for children.
CountrySide Lakes has been collecting water for the month of May and on the day of the event, they'll be giving the donations to the firefighters.
There will be hot dogs, chips, and drinks available for those who attend. There will also be face painting, glitter tattoos, balloon twisting, a petting zoo, games, an art exhibit, a magic show, and live music provided by Amy Alysia and the Soul Operation, an R&B/Soul band.
Last year was the first time that the senior center did this hydration drive and they got 200 cases of water. This year they are aiming to get 1,000 cases and right now they're at about 400-500.
Firefighters can go through 200 cases in one brush fire, so it's important to the senior center that they hit their goal.
Stephanie Lynch, the Life Engagement Director at CountrySide Lakes said, "donating the water bottles means the firefighters can spend their money on equipment, such as defibrillators and uniforms instead of spending it on water."
According to Lynch, the senior center has been very active in the community. Earlier this year they collected teddy bears for the police department to hand out to children and later this year they will be doing a fundraiser for Sweetwater Elementary in order to donate supplies, kleenex, and hand sanitizer.
The entire community is excited about the Hydrate A Hero drive, so come out with the family for a great event that will benefit those that serve our community! If you have any questions, call Stephanie Lynch at 385-307-0290.
---
Bookmark & Share
---
User Comments
Be the first to comment on this post below!