News Archives
City Council Discusses New Budget for 2019 Fiscal Year
Tue, Jul 17, 2018 at 2:00PM
---
Port Orange, FL - On Thursday, July 12th, city council held a budget workshop and they discussed the upcoming budget for the 2019 fiscal year.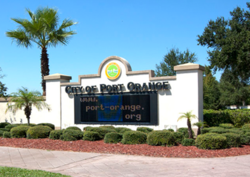 There were many different topics of debate, but some of the most important ones dealt with the police and fire departments and the merging of public works and public utilities. The budget can only be reduced, not increased, and it was reported that more than two thirds of the 2019 fiscal year's base expenditures is comprised of public safety.
A recurring topic of giving the fire department an ambulance was debated. The purpose of giving the fire department an ambulance is so they can run calls. The addition of the ambulance would cost $75,000 and would require additional personnel.
Mayor Don Burnette and Vice Mayor Scott Stiltner are in favor of the ambulance idea, but they each had caveats with their decisions. Burnette stated that he wants conservative income estimates from City Manager Jake Johansson. Stiltner's stipulation was that he wanted it in writing that the vehicle would be used as a closest unit response.
Councilman Bob Ford wasn't sure about the addition because he felt that it was redundantly doing the county's job.
Another topic city council discussed was the police department's request to add new positions, including an evidence supervisor. The addition of an evidence supervisor had the support of all of the council members. Police Chief Thomas Grimaldi said the new position would help with processing body camera video and other digital files.
Other requests the police department had were the addition of gear, equipment, three police officers, and a lieutenant position.
"We have a very young department and a very inexperienced department," Grimaldi said. "Field supervision is key; I'm a huge believer in field supervision.
Port Orange has been running without a public works director since last August, and the budget is facing an "organization change," according to Johansson, as a result of the merging of the public works and public utilities department.
Johansson said the merging of the departments is a positive thing because it "further refines the two departments and funds them appropriately by the right enterprise fund."
The proposal is to fill two new positions, a generator mechanic and a crew chief. By doing this they will get rid of the director role and an administrative assistant role. As a result of the changes the city will be making they will save approximately $37,000.
Administrative Services Director Jamie Miller said, "Our goal was to make it fiscally responsible, gain efficiencies, and, if possible, even improve service levels."
---
Bookmark & Share
---
User Comments
Be the first to comment on this post below!