News Archives
Cracker Creek Hosts Successful Chamber Morning Mixer
Fri, Nov 02, 2018 at 1:40PM
---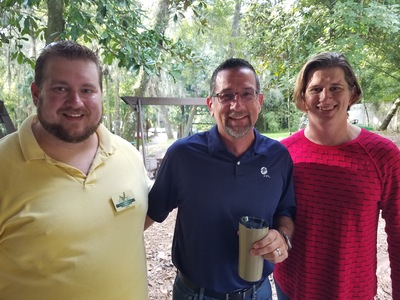 Port Orange, FL- Local members of the area business community gathered this morning for the monthly Port Orange South Daytona Chamber of Commerce Morning Mix and Mingle. This morning's event, attended by roughly 75 business professionals, was hosted by Chamber member Cracker Creek.
Cracker Creek General Manager Jill Williams said the event was well attended and served as a great opportunity for area professionals to see the property.
"It was our pleasure to host this morning's mixer," said Williams. "This was not our first partnership with Chamber – we will host its leadership program later this month for local community leaders where we will share eco-history and ecology sessions with a boat ride and tram tour of our property and the adjoining historic Gamble Place property."
Chamber Member organizations have the opportunity to host the monthly Morning Mix and Mingle and the Business After Hours events.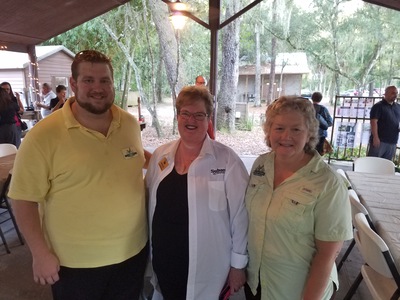 Leslie Layton, Communications and Event Manager for the Port Orange South Daytona Chamber said today's event provided the perfect opportunity to network while enjoying such a unique venue.
"Our morning mixers give local business professionals a chance to compare notes, network, and build a community of businesses to help them thrive in the Port Orange – South Daytona areas," said Layton. "Cracker Creek is a hidden gem. It's historical and beautiful. The minute you make the turn you're back in time the way Florida was at the turn of the century. It's a unique opportunity to unplug, breathe deeply and get away from the bustle of the city."
The Chamber will host its November Business After Hours event on the 15th. For more information visit the Chamber's site at https://www.pschamber.com/
Pictured in top image: John Williams of Cracker Creek, board member Tony Tucci, Board Chair Dr. Jamie Young.
Pictured in bottom image: John Williams of Cracker Creek, board member Ann Pintiliano, Cracker Creek GM Jill Williams Cracker Creek
---
Bookmark & Share
---
User Comments
Be the first to comment on this post below!