News Archives
ONE DAYTONA Announces Partnership with FPL
Wed, Mar 31, 2021 at 2:50PM
---
Written by Kristen Schmutz
Belden Communications News

ONE DAYTONA has announced plans to install six fast-charging ports at the center, as part of Florida Power & Light Company's FPL Evolution.
According to a release, FPL Evolution is a pilot program designed to boost Florida's electric vehicle infrastructure and support EV adoption across the state. FPL Evolution is partnering with large employers, municipalities, and tourism destinations across the state to install over 1,000 charging ports at more than 100 locations in an approximate three-year period. These include a network of fast-charging stations that will allow drivers to plug in every 50 miles along major highways and corridors such as I-95 and the Florida Turnpike.
"FPL is a leader when it comes to clean energy in Florida, and we know that electric vehicle adoption plays a pivotal role in creating sustainable transportation. By building a network of fast-charging EV stations throughout the state, we are creating the infrastructure necessary to support EV drivers," remarked Anuj Choksi, Project Director of Development for the FPL EVolution program. "If you live in Daytona Beach or are traveling through the area, the FPL EVolution fast-charging stations at ONE DAYTONA provides an opportunity to charge your vehicle, enjoy nearby amenities, and within 30 minutes, you are charged up and ready to get back on the road."
Electric vehicles need to be charged regularly to maximize their range.
The six fast-charging stations will be located in the parking lot next to Bass Pro Shops and near P.F. Changs and Rock Bottom Restaurant and Brewery. Each station has CCS and CHAdeMO Level 3 charging connectors used by most EVs. Teslas use a propriety platform but can still energize here by using an adapter.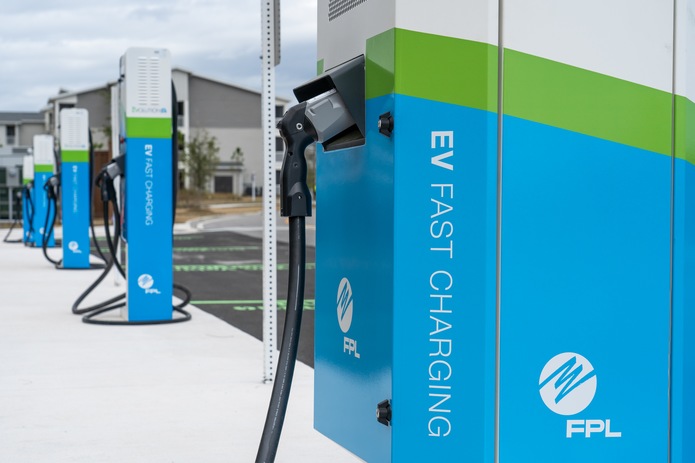 "FPL is a great partner of Daytona International Speedway and now ONE DAYTONA," stated Roxanne Ribakoff, President of ONE DAYTONA. "The fast-charging stations will be an added convenience for our guests, visitors at our two hotels, and residents at Icon ONE DAYTONA. In addition, we look forward to attracting visitors traveling the nearby I-95 / I-4 corridors as more drivers transition to electric vehicles."
The installation is scheduled to be complete by August 31.
---
Bookmark & Share
---
User Comments
Be the first to comment on this post below!